Do you know that counting numbers can be a learning and fun activity? Yes, through Color by number, kids can learn to recognize basic numbers. It is an interactive activity designed to teach preschoolers basic math skills as they have fun with colors.
Color by number pages are fantastic and fun for preschoolers. It enables them to identify numbers and color those numbers appropriately. It also helps kids to recognize colors and practice their coloring skills effectively as well as stay entertained.
Functions of Color by Number
To train preschoolers to follow instructions in order to carry out their tasks faster and efficiently.
To learn the meaning of symbols to be able to function in all other areas of their lives.
To see the necessity to finish what they have started as a valuable life skill.
To develop their number sense and color mixture skills which is an important part of their educational admittance.
Here are some colored by number pages reviewed in this article to act as your guide.
Fish Color by Number
Kids can be curious to learn more about the sea creature and its surrounding world. Fish color by number certainly appeals to preschoolers! They provide kids with specific knowledge about the environment and also stimulate his/her artistic creativity. This fish which looks a bit dull without any color has numbers that can aid their number identification as well the recognition of colors. With the cute fish images and beautiful underwater scenes, kids can relax while coloring and learning.  They can be calm and enjoy hours of fun, develop concentration and accuracy.
4th of July Color by Number
These color by number pages are a great way to celebrate the national day that is the magic and history of American Independence Day, flags, fireworks, rockets, parades, the Statue of Liberty and eagles, as well as number recognition. It is a fun way to help kids recognize their numbers while having fun coloring.
For preschoolers, it is an exciting method to understand and exercise their abilities as well as to make improvements on their numbering. Aside from using this system for coloring, it is an excellent studying and exercise way of identifying all numbers to assist them with their math concepts abilities. All they must do is to keep coloring and reciting the numbers.
Color by Number Butterfly
This color by number butterfly is a fun, learning and creative way to help preschoolers develop number sense skills as well as practice identifying numbers 0–10 and even beyond. It is a perfect method to introduce early math concepts to them as they enjoy watching the butterfly with beautiful wings, flower pictures, and fascinating patterns come to life using the specified colors. The color by number system is a great studying and rehearsing technique for numbers. Kids love figures/ numbers and this will truly help them to make use of their arithmetic capabilities.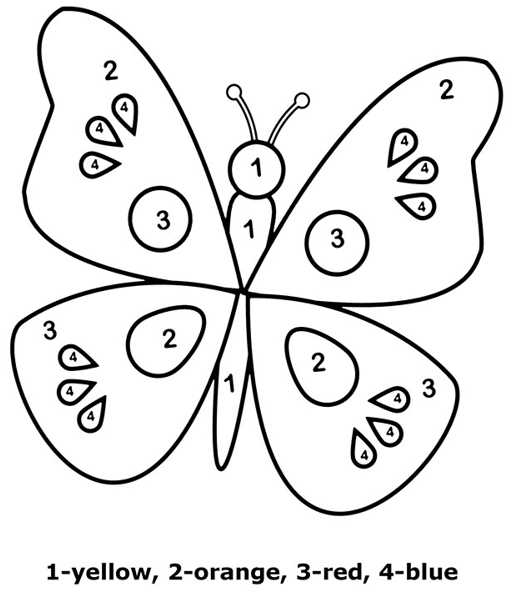 The printable or downloadable color by numbers butterfly, most especially the wings is loved by kids who love to color them. It also helps to develop cognitive skills, encourage their creativity, learn basic number recognition and develop  their fine motor skills, aid relaxation, meditation and  focus.
Color by Numbers Christmas
These color by number Christmas make it fun for preschooler to learn about the celebrated holiday season in December and practice number identification while strengthening fine motor skills. These pages are great for toddler, preschool, pre-k, and kindergarten who learn to recognize numbers in a fun, holiday-themed style. Kids can have a fantastic time bringing Santa Claus and other Christmas symbolism to life with different colors. They can recognize the numbers and find the gingerbread man, enjoy the winter town scene and watch it all come together in an aesthetic form.
With Christmas approaching, some of the best preschools have already started this. Teachers work with students to encourage them to learn and understand the meaning and significance of the Christmas holidays. Colouring helps the kids to understand and grasp what Christmas is all about in a fun and engaging manner. Understanding culture, exploring the habit of helping others, etc. are all taught by the best preschools.
Heart and Flower Color by Number
Heart and flower color by number has cute heart shapes and flowers with numbers written on them which are perfect for preschoolers to help them develop eye-hand coordination, practice their colors and learn to follow directions. The heart can be colored in a bright shade of red and the flowers other bright colors as they read aloud the numbers to develop their number sense skills.
Color by Number Rainbows
Color by number rainbows helps to teach kids about the various colors represented in the rainbow as well as learn how to identify numbers. They can bring their maths understanding to the limelight and use nine different colors to brighten the shape/fun scene. Kids can also learn useful information about rainbows.
Happy Birthday Color by Number
Happy Birthday Color by number is a lovely printable or downloadable page for preschoolers, most especially on their special birth anniversary to make it unique and memorable. It helps kids to learn about the fundamentals of counting numbers while coloring. They can easily recognize numbers and color with the appropriate color. These color by number pages help kids to learn concepts, coloring, and numbering, celebrations and color sense. It helps to stay within the lines as they identify the numbers to build their recognition skills. It offers fun and learning to raise their awareness during their early stage of creativity.
Pig Color by Number
Pigs are one of the most fascinating animals to kids. Their colors vary from white and back to brown and pink. Pig color by number shows cute pig printable pages that feature the entire family.
It is appealing to animal lovers who can color them to make them livelier and brighten the pig family. They can color the key lines while using the appropriate shade and identify the numbers in the pictures presented. These pages aid preschoolers' emotional and social development, build self-esteem and teach them how to express their feelings as we learn number identification strategies.
Color by Number Kite
Color by number kites are popular among preschoolers due to their aesthetic shapes. They love to fly it outdoor and this makes them want to stay indoor with their number pages to have the fun-earning experience. They can identify the numbers in the shape and fill the kites with beautiful colors. These pages feature geometric kites, complex patterned kites and flying kites.